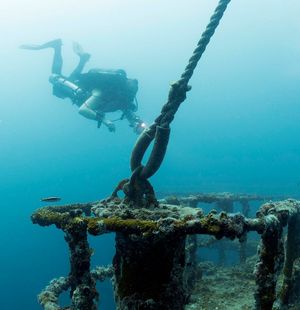 Advanced Adventure
If you just finished your Open Water course and are now ready to expand your dive knowledge, look no further than the Advanced Adventure Diver course! You will get an overview of five specialty skills to begin becoming an advanced diver. The Deep Dive and the Underwater Navigation are required but the other three are up to you and the dive shop.
SPECIALTY OPTIONS: COMPLETE A MINIMUM OF 5 CERTIFICATION DIVES
Deep Dive – become comfortable completing dives up to 100ft/30m
Underwater Navigation – helps you always find your way home
Advanced Buoyancy – helps dial in your weight and float perfectly trim through the water
Boat Dive – learn the ins and outs of diving from a boat
Wreck Diving – learn how to safely explore and discover how the sea claims them for her own
Night Diving – many divers feel as this is the most rewarding specialty
This course will introduce you to the five specialties selected; not a complete comprehension of a specialty certification. One dive from each of the chosen specialties may go towards a specialty certification.
PREREQUISITES
Minimum age of 18, 10 with parental consent.
SDI Open Water Scuba Diver or equivalent
SDI Junior Open Water Scuba Diver or equivalent*

*Junior Divers (10-15) can only take specialties approved for their age
Limits:

Deep Diving: Maximum depth is 70ft/21m
Dry Suit: Minimum age is 12
Wreck: limited penetration minimum age is 15
COURSE SCHEDULE
It typically takes two days to complete the Advanced Adventure Diver Certification. Typically, one of the days will be completed at a beach or spring, while the second day will completed with a charter.
EQUIPMENT REQUIRED
2 dive lights (a primary and a backup)
Compass for navigation dives
SMB (surface marker buoy)
Finger Spool
You will be required to provide your own SCUBA equipment for the advanced class. For those of you who do not own their own gear, MBT Divers offers a ONE time charge for the renting for the full class.
COST
$299 - includes all books, instructor fees, air fills (additional charge for nitrox), and administrative fees.
Additional costs include:
Optional individual entry fees to the parks and springs is $8 - $25
Cost of boat charter $125-150
SIGNING UP
There is no deadline or specific time requirement for signing up for any of our courses, however we recommend that you sign up for courses as early as possible to reserve your spot and provide time to preview the course materials. All course fees are NON-REFUNDABLE. Contact the shop today to see about getting started!