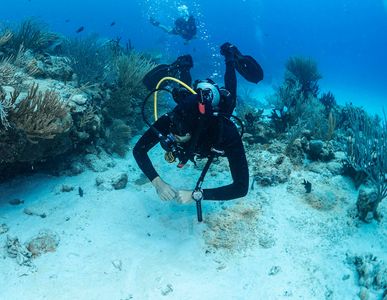 Beginning Open Water SCUBA Course
MBT offers the most flexible and enjoyable scuba instruction program in the area. All of our courses are self paced and are designed to provide our students with the complete SCUBA experience and much more than just the minimum requirements! Our award winning training program now allows you to complete the majority of the academic course work online! Diving is fun, your course should be too!!
WHY TAKE AN OPEN WATER COURSE?
The Open Water SCUBA Certification course is the first level that divers complete to begin diving on their own. The course will teach you how to properly choose, assemble, use, and care for SCUBA equipment, and how to safely plan and conduct dives. Students completing the course are issued a certification card that is accepted worldwide which will allow you to rent equipment, get tanks filled, and participate in charters and tours.
WHY ONLINE TRAINING?
We understand that your time is valuable, and providing online training for the academic portion of the class allows our students to complete the material at their own pace and on their own schedule. We find that students completing the online work are typically better prepared for the in water portion of their training. Personal assistance is always available for students needing help with any of the material.
COURSE SCHEDULES
Our fun, self-paced courses make it easy to complete the course without the hassle of tight schedules and no penalties for missed classes. Our online home study format means less time in the classroom. No pressure. No wasted time. No strict schedules to meet. It's easy and you can start today! Our goal is to make SCUBA training available for anyone that wants to learn to dive. Regularly scheduled classes begin every week and weekend only courses and other special courses are available for those with tight schedules. While many students complete the course and become certified scuba divers in a week or less, students have up to one year to complete the training. With online training, it's easy and you can start today!
Note: These are typical schedules. Days and times are subject to change and all times are approximate. Make sure to call ahead to reserve your seat and confirm times for each class.
E-LEARNING COURSE SCHEDULE
THU 6:00 PM - 9:00 PM - ORIENTATION
FRI 6:00 PM - 9:30 PM - POOL
SAT 7:30 AM - 4:00 PM - DIVE DAY
SUN 7:30 AM - 4:00 PM - DIVE DAY
The course does not have to be completed in consecutive days...you can split it up as needed!
DISTANCE E-LEARNING COURSE SCHEDULE
FRI 3:00 PM - 6:00 PM - ORIENTATION
FRI 6:00 PM - 9:30 PM - POOL
SAT 7:30 AM - 4:00 PM - DIVE DAY
SUN 7:30 AM - 4:00 PM - DIVE DAY
This schedule is designed for students coming from out of the local area.
COURSE FORMAT
Following the completion of the online course work, you will have a minimum of one classroom session, one pool session, and two days of diving. You progress to each next step when YOU and your instructor feel you are ready. Our enjoyable "no pressure" program allows you to receive as much extra work as necessary to make you confident and comfortable and get you certified!
CERTIFICATION DIVES
At MBT Divers we prefer to maximize your training and enjoyment by conducting your certification dives in carefully selected locations such as crystal clear freshwater springs and during spectacular dives in the Gulf of Mexico. Specific training sites are carefully chosen daily based upon student preferences and site conditions.
CERTIFICATION
At the completion of the course, you will be certified to dive within recognized recreational limits. As an openwater diver we can train at a max depth of 60 feet. We do strongly recommend that if you intend to regularly conduct dives below 60' that you complete the Deep Diving specialty course or an Advanced Open Water certification. Leaving the local area or planning to travel? Your certification will be recognized and gladly accepted by dive shops, charter boats, and resorts throughout the world.
EQUIPMENT
The only equipment you will be required to provide will be your own SCUBA-Quality mask, snorkel, fins, and booties. Gloves and a personal weight belt are highly recommended. We offer a significant discount to our students on all of these and other items! MBT will provide all other equipment required during the open water course at no extra charge.
ADDITIONAL TRAINING
MBT offers a full range of courses. Whether you're interested in Specialty, Advanced, Nitrox, or one of our many Technical courses, we offer the training program you're looking for, and all of our courses are designed with fun and flexibility in mind. Click here for more information on MBT's Advanced Open Water Certification Course.
WHO CAN LEARN?
Anyone that is over the age of 10, in good health, and can swim comfortably in the water can learn to dive. What about Medical Conditions? There are certain medical conditions or medications that can prevent a person from being able to dive safely. In some cases approval from your doctor may be required before you can be enrolled in a SCUBA training class. Give us a call at (850) 455-7702 if you would like more information.
COST
At MBT Divers, we pride ourselves in being honest with our customers from the start. The cost of our open water certification course is $329.95 ($299.95 military/student) includes all academic materials, Instructor Fees, SCUBA Equipment rental, air fills, Log Book, and administrative Fees. Our students also receive a free 6 month subscription to "Dive Training" magazine. Individual entry fees to parks and springs (typically $8-$25) are not included. These fees do not always apply, and are not a requirement to completing the course.
KIDS AND SCUBA TRAINING
While children as young as 10 can get certified to SCUBA Dive, not all 10-12 year olds are mentally or physically ready to undergo the training. For children under 14 years of age, we like to meet with the child and parent before enrolling the child in a SCUBA training program. We highly recommend kids 12 and under be enrolled in a private class. For students under the age of 16, a parent or legal guardian must be present for all in water activities.