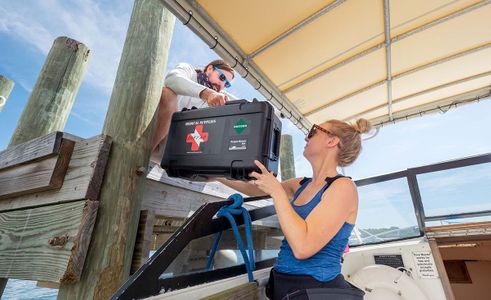 CPR/First Aid, Oxygen Provider
Whether it's being on the scene of an accident or witnessing a medical emergency, most people will be involved in a crisis at some point in their lives. First aid training and incident management skills empower people to step up and take action should these situations arise.
These courses are required for the rescue course and further training.
CPR AND FIRST AID
This fundamental course prepares you to provide proper care for life-threatening illnesses or injuries until professional emergency medical care is available. The life-support skills taught in this course include one-person CPR, use of automatic external defibrillators, bleeding management, assisting a choking victim and responding to a person in shock. The first aid skills taught include conducting secondary assessments, splinting and responding to medical emergencies.
EMERGENCY OXYGEN FOR SCUBA DIVING INJURIES (EO2)
Administering emergency O2 is the preferred first aid for scuba diving injuries, and early administration can drastically improve the outcome for an injured diver. This course teaches you how to administer life-saving oxygen first aid to divers who may be suffering from decompression illness (DCI). Additionally, this course will teach you how to recognize the signs and symptoms of decompression illness and respond to them accordingly. The emergency response skills taught in this course are not unique to scuba diving; they're applicable to many other watersports and other activities.
COST
$129.95