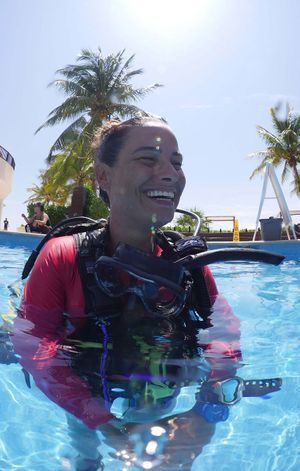 Learn to Dive
Now you can complete the initial home study portion of the Open Water SCUBA certification course online, on your schedule. Our experience has shown that students that complete the home study portion of their training online perform better during the rest of their training.
MBT now offers e-Learning programs that allow our students to complete the academic home study portion of the class anywhere, any time. No driving back and forth all week to sit in class. No trying to get off work to make class on time. No long drug-out classroom sessions at the end of a hard day. You even take the final exam AT HOME!
After you complete the home study portion online, you can complete the rest of your training at MBT! All certifications issued by MBT instructors are recognized worldwide, and you'll receive the same high quality of training regardless of which agency issues your card. There is some variation in price due to differences in administrative and academic costs between the agencies.
To complete the SDI open water certification course for $299, you can sign up in person, over the phone, or you can enroll directly online. If you sign up via the link below, SDI will bill you $129.95 for enrolling and you will receive credit toward the total cost of the course. The balance of $170.00 will be charged when you come in for the orientation session.
We offer SDI open water classes every week! Click the link below and select MBT Divers as your selected training facility to get started right away!
PADI CERTIFICATIONS
MBT Divers also offers open water SCUBA certifications through PADI with prior scheduling. PADI currently requires online registration for open water courses taught through their web portal. Please call us at (850) 455-7702 for your student sign-in code. We'll also be happy to address any questions or concerns you have about any of our scuba courses.
The practical portion of our PADI Open Water Diver courses are available on an as-needed basis. Please call the shop at (850) 455-7702 and we'll be happy to let you know when a PADI instructor is available.