Advanced Adventure
If you just finished your Open Water course and are now ready to expand your dive knowledge, look no further than the Advanced Adventure Diver course! You will get an overview of five specialty skills to begin becoming an advanced diver. The Deep Dive and the Underwater Navigation are required but the other three are up to you and the dive shop.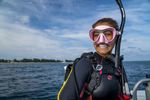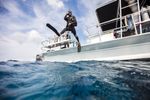 SDI
Step 1- Have an SDI Open Water Scuba Diver, SDI Junior Open Water Scuba Diver, or equivalent certification. Be a minimum of 18 years old, or 10 years old with parental consent. Complete the online portion that can be purchased through MBT Divers, or online through the SDI website.
Step 2- Figure out what specialties you want to take interest in, you will need to complete a minimum of 5 certification dives. These dives include but are not limited to deep diving, boat diving, underwater navigation, buoyancy diving, wreck diving, and night diving. The equipment you will need to provide includes 2 dive lights, a compass, a surface marker buoy (SMB) with finger spool, and your own SCUBA gear (you can rent through MBT for the weekend).
PADI
Step 1- Advanced Open Water Diver eLearning includes interactive lessons on 13 popular specialty dives: altitude, boat, digital underwater imaging, drift, dry suit, fish ID, night, buoyancy, search and recovery, underwater naturalist, and wreck diving. You'll study deep and navigation plus three specialties of your choosing.
Step 2- The course includes 5 dives: a deep dive below 60ft/18m, a navigation dive, and three specialty dives. Gain experience, build confidence and discover your diving abilities. You will need to be Open Water Diver/Junior Open Water Diver (or equivalent) certified. The maximum depth for this certification is up to 100ft/30m.