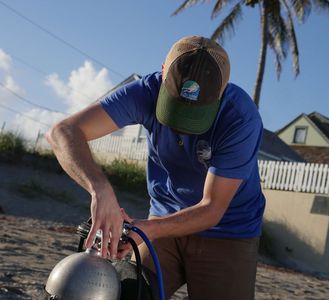 Equipement Service
Scuba equipment is life support equipment, and we make diver safety our top priority! MBT's professional service department provides fast and reliable service on all makes and models of dive equipment. Whether your equipment is due for annual service, is in need of repair, or just needs an adjustment, bring it in. We'll have it fixed right the first time and get you back in the water quickly and safely with honest no-nonsense pricing.
MBT provides a free courtesy inspection service for our customers that may be considering the purchase of used equipment from other sources. Before you buy, bring it by! We'll give you an honest, straightforward assessment of the equipment's condition that could save you a great deal of time and money!
Fast Professional Service with honest no-nonsense pricing. We can service most makes and models of equipment.
SCUBA SERVICE PRICING
REGULATOR ANNUAL SERVICE - Special - $80 PLUS PARTS (INCLUDES 1ST & 2ND STAGE, OCTO, INSTRUMENT CONSOLE)
CYLINDER VISUAL INSPECTION (VIP) - Special - $15 INCLUDES AIR FILL - ADD $5 FOR NITROX
CYLINDER HYDROSTATIC TEST - Special - $50 INCLUDES VIP & AIR FILL- ADD $20 FOR NITROX (includes O2 clean)
BCD INFLATOR SERVICE - Special - $20 PLUS PARTS
OXYGEN CLEAN CYLINDER AND VALVE - Special - $40
SAFETY INSPECTION / SERVICE ASSESSMENT- NO CHARGE
AIR FILL PRICING*
AIR FILLS - $8.00
10 & 20 FILL AIR CARDS Available
NITROX* is partial pressure blended. Nitrox cylinders MUST be cleaned and O2 service rated
NITROX UP TO 36% - $14
10 FILL NITROX CARDS Available
Trimix - Based on Helium Market Price
As of January 1, 2004, we will no longer be able to fill any cylinders manufactured by the Walter Kidde company, or any Luxfer cylinders made before July 1988. We apologize for any inconvenience, but safety is our prime concern!
*See Gas Fill page for more information.